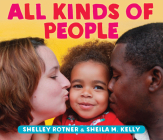 $7.19
ISBN: 9780823439720
Availability: Usually Ships in 1-5 Days
Published: Holiday House - September 25th, 2018
Perfect for the youngest readers, this board book adaptation of the acclaimed Shades of People celebrates the diversity of everyday life.

---

$7.19
ISBN: 9780805071634
Availability: Usually Ships in 1-5 Days
Published: Square Fish - October 1st, 2002
A positive and affirming look at skin color, from an artist's perspective.

Seven-year-old Lena is going to paint a picture of herself. She wants to use brown paint for her skin. But when she and her mother take a walk through the neighborhood, Lena learns that brown comes in many different shades.

---

Email or call for price
ISBN: 9780807507858
Availability: Out of Print
Published: Albert Whitman & Company - January 1st, 1993
This simple story celebrates how the differences between one mother and father blend to make the perfect combination in their daughter. As this little family moves through the world, the girl notes some of the ways that her parents are different from each other, and how she is different from both of them.

---

$7.19

ISBN: 9780064436441

Availability: Usually Ships in 1-5 Days

Published: HarperCollins - January 6th, 2004

Brown-skinned mama, the color of chocolate milk and pumpkin pie. White-skinned daddy, not the color of milk or snow, but light with pinks and tiny tans. And their two children, the beautiful colors of both.

For an all-American family, full of joy, warmth, and love, this is the way it is for us / this is the way we are

---

$14.36

ISBN: 9780975958001

Availability: Usually Ships in 1-5 Days

Published: Chicago Children's Museum - April 1st, 2005

With the ease and simplicity of a nursery rhyme, this lively story delivers an important message of social acceptance to young readers. Themes associated with child development and social harmony, such as friendship, acceptance, self-esteem, and diversity are promoted in simple and straightforward prose.

---

$17.95

ISBN: 9781605540795

Availability: Usually Ships in 1-5 Days

Published: Redleaf Press - February 11th, 2014

The essential resource for 20 years

---

$7.19

ISBN: 9780823423057

Availability: Usually Ships in 1-5 Days

Published: Holiday House - June 1st, 2010

Cocoa, tan, rose, and almond—people come in lots of shades, even in the same family.
 

---

$4.49

ISBN: 9780152060305

Availability: Usually Ships in 1-5 Days

Published: HMH Books for Young Readers - September 1st, 2006

Every day all over the world, children are laughing and crying, playing and learning, eating and sleeping. They may not look the same. They may not speak the same language. Their lives may be quite different. But inside, they are all alike. Stirring words and bold paintings weave their way around our earth, across cultures and generations.

---

$6.29

ISBN: 9780439802512

Availability: Usually Ships in 1-5 Days

Published: Cartwheel Books - January 1st, 2006

The best-selling picture book is now available as a board book.
I am Black / I am Unique / I am the creamy white frost in vanilla ice cream / and the milky smooth brown in a chocolate bar...

---

$17.09

ISBN: 9780545478533

Availability: Usually Ships in 1-5 Days

Published: Arthur A. Levine Books - January 27th, 2015

For most children these days it would come as a great shock to know that before 1967, they could not marry a person of a race different from their own. That was the year that the Supreme Court issued its decision in Loving v. Virginia.


---

$17.09

ISBN: 9781250142733

Availability: Usually Ships in 1-5 Days

Published: Henry Holt and Co. (BYR) - July 3rd, 2018

The reds, the yellows, and the blues all think they're the best in this vibrant, thought-provoking picture book from Arree Chung, with a message of acceptance and unity.

In the beginning, there were three colors . . .

Reds,

Yellows,

and Blues.


---

$16.19

ISBN: 9781250138279

Availability: Usually Ships in 1-5 Days

Published: Feiwel & Friends - September 4th, 2018

Mom is old-fashioned.
She likes things hand sewn.
To make her more modern,
we bought a smartphone. . . .

For Mom's birthday, her kids are excited to teach her how to take selfies with her new smartphone. At first, it's lots of fun for the whole family. Soon, driven to take the perfect selfie, Mom begins to document

---

$7.19

ISBN: 9780688170622

Availability: Usually Ships in 1-5 Days

Published: HarperCollins - September 28th, 1999

Celebrate the colors of children and the colors of love—not black or white or yellow or red, but roaring brown, whispering gold, tinkling pink, and more.

---

$9.86

ISBN: 9780892391707

Availability: Usually Ships in 1-5 Days

Published: Children's Book Press (CA) - April 1st, 2013

Two Mrs. Gibsons is author Toyomi Igus's tender and touching tribute to the two most important women in her life--her Japanese mother and her African American grandmother.

Two Mrs. Gibsons is author Toyomi Igus's tender and touching tribute to the two most important women in her life-her Japanese mother and her African American grandmother.

---

$7.16

ISBN: 9781847800343

Availability: Usually Ships in 1-5 Days

Published: Frances Lincoln Children's Books - August 25th, 2009

Alvina has two grannies who she loves with all her heart. Grannie Vero is from the Caribbean island of Trinidad. Grannie Rose is from the north of England. When Alvina's parents go away on holiday, both the grannies move in to Alvina's house to look after her. But the two grannies want to do different things, eat different food, play different games and tell different stories.

---

$16.19

ISBN: 9781423121909

Availability: Usually Ships in 1-5 Days

Published: Little, Brown Books for Young Readers - May 24th, 2011

One hot summer night in the city, all the power goes out. The TV shuts off and a boy wails, "Mommm!" His sister can no longer use the phone, Mom can't work on her computer, and Dad can't finish cooking dinner. What's a family to do?

---

$15.95

ISBN: 9781585365418

Availability: Usually Ships in 1-5 Days

Published: Sleeping Bear Press - September 15th, 2011

Intriguing collage illustrations frame this timeless story of a young child who questions the significance of color. Speaking in verse, the child wonders if the natural world believes any particular color to be more important than another. Does the rain think I'm a color when it falls on my head? I wonder if the clouds think I'm a color... maybe they think I'm green or blue or red.

---

$16.19

ISBN: 9780316185332

Availability: Usually Ships in 1-5 Days

Published: Little, Brown Books for Young Readers - September 24th, 2013

You will always be the first...




A touching tribute to baby's early milestones -- those unforgettable moments that will always be cherished. From first smiles to first cuddles and even to that first kiss, here's a loving ode to every child's -- and parent's -- momentous "firsts."

---

$17.06

ISBN: 9780892393268

Availability: Usually Ships in 1-5 Days

Published: Children's Book Press (CA) - July 1st, 2016

Bilingual English/Spanish. Free-spirited Marisol confronts her fear of monsters and unfamiliar nighttime noises.

Marisol McDonald loves words that begin with the letter m-except the word monster. Monsters are scary, with big eyes, wild fur, pointy claws, and sharp teeth.

---