Adult Onset (Hardcover)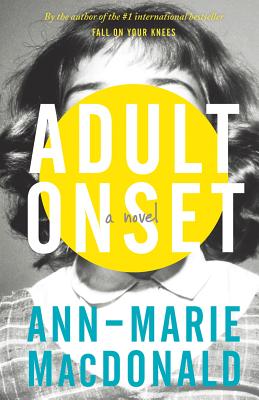 Description
---
Mary Rose MacKinnon is a successful author of YA fiction doing a tour of duty as stay-at-home mom while her partner, Hilary, takes a turn focusing on her career. She tries valiantly to balance the (mostly) solo parenting of two young children with the relentless needs of her aging parents. But amid the hilarities of full-on domesticity arises a sense of dread. Do other people notice the dents in the expensive refrigerator? How long will it take Mary Rose to realize that the car alarm that has been going off all morning is hers, and how on earth did the sharpest pair of scissors in the house wind up in her toddler's hands? As frustrations mount, she experiences a flare-up of forgotten symptoms of a childhood illness that compel her to rethink her own upbringing, her own family history. Over the course of one outwardly ordinary week, Mary Rose's world threatens to unravel, and the specter of violence raises its head with dangerous implications for her and her children. With humor and unerring emotional accuracy, Adult Onset explores the pleasures and pressures of family bonds, powerful and yet so easily twisted and broken. Ann-Marie MacDonald has crafted a searing, terrifying, yet ultimately uplifting story.
About the Author
---
Ann-Marie MacDonald is an author, actor, playwright, and broadcaster. Her first novel, "Fall on Your Knees" was a critically acclaimed "New York Times" bestseller. It won the Commonwealth Prize, was short-listed for the Giller Prize, and won the People s Choice Award and the Canadian Booksellers Association Libris Award for Fiction Book of the Year. In 2002 it became an Oprah s Book Club selection. It has been translated into 19 languages. Her second novel, "The Way the Crow Flies" was an "New York Times" bestseller, a finalist for the Giller Prize, and a Good Morning America Book Club pick. It has been translated into 13 languages.

Her first solo-authored play, "Goodnight Desdemona (Good Morning Juliet)" won the Chalmers Award, the Governor General s Award, and the Canadian Authors Association Award. Her other works for the stage include the libretto for the chamber opera Nigredo Hotel, book and lyrics for the musical "Anything that Moves" (which garnered several Dora Awards, including Outstanding New Musical), and "Belle Moral: A Natural History."

She lives in Montreal with her partner and their two children.

"