Torn Apart: United by Love, Divided by Law (Paperback)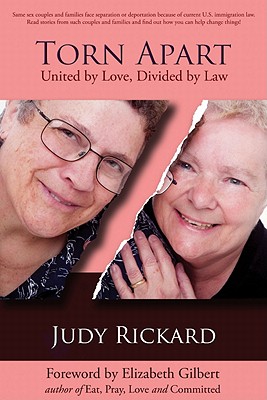 List Price: $20.00
Our Price: $18.00
(Save: $2.00 10%)
Description
---
The horrors that thousands of lesbian and gay couples face are detailed in this moving political and personal story of immigration and love. As Judy and Karin's legal battles reveal, when only one half of a gay couple is an American citizen, immigration struggles are confounded by the fact that the partners cannot legally marry in most parts of the United States. With resources that outline which organizations can help and what the challenges and the realities of this situation are, this reference reaches out to couples, their friends and family, and anyone interested in assisting by offering advice and camaraderie on this subset of the gay marriage issue. Royalties from the book, which is published in association with Immigration Equality and Out4Immigration, go to groups working to overcome immigration denial for gay couples.
About the Author
---
Judy Rickard has worked in positions to promote civil rights for nearly 40 years as a lesbian, gay, bisexual, and transgender (LGBT) activist. She served on her region's LGBT political action board for 15 years, diversity committees for two San Jose mayors, and various Santa Clara civil and human rights committees. She also has worked with multiple San Jose University presidents on diversity issues and educated political candidates and elected officials on LGBT topics. She lives in San Jose, California. Elizabeth Gilbert is the author of Eat, Pray, Love.
Praise For…
---
"Rickard puts a human face on a political issue and offers actionable steps for her readers: encouraging them to support the United American Families Act and contact their congressmen or women." Publisher's Weekly (March 28, 2011)
"[In Torn Apart] you'll meet people willing to fight for their relationships, expatriate themselves for their relationships, and bankrupt themselves for their relationships. This book is really a collection of love stories, detailing the lengths people are willing to go to in order to preserve our families." Angel Curtis, OutSmart Magazine (April 2011)
"Incredible tales of 'Rube Goldberg' type arrangements by American citizens simply to be able to stay with their foreign partner . . . readable and important. . . . The stories are the power and she doesn't dilute them." www.DavidMixner.com
"A compelling wake-up call . . . inspiring, often sad, even infuriating, tales of same-sex couples caught in the machinations of antiquated U.S. immigration policy . . . chockfull of ideas for how to help."
Windy City Times