Collective Visioning: How Groups Can Work Together for a Just and Sustainable Future (Paperback)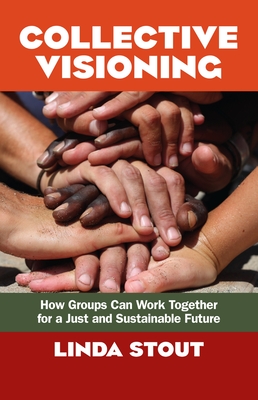 List Price: $17.95
Our Price: $16.16
(Save: $1.80 10%)
Usually Ships in 1-5 Days
Description
---
It's an unfortunate fact of social organizing that, despite even the best intentions, groups convened to effect positive change often fail to empower people from all backgrounds to speak up or to tap into a positive and inspiring collective vision. Longtime social justice crusader Linda Stout details a practical process that enables everyone—even those commonly marginalized—to work together with honesty, passion, commitment, and joy to create a positive, energizing, and sustainable vision and to make that vision a reality.

Stout shows, in practical terms, how to bring a group together, build trust, ensure that each and every voice is heard, create a positive vision, and develop an action plan that leverages everyone's abilities to bring that vision to fruition. Used successfully by more than 120 organizations—and illustrated here by dozens of practical examples and exercises—this process creates hope for change, even among those who've stopped believing that change is possible. This comprehensive guide will serve as a template for anyone seeking to create a better, more just tomorrow.
About the Author
---
Linda Stout is founder and director of Spirit in Action. She previously led the Piedmont Peace Project in North Carolina, which won the National Grassroots Peace Award, and is the author of Bridging the Class Divide.
Praise For…
---
"To listen to Linda Stout is to be inspired, to gain new hope that a fundamental transformation of our culture is not only possible but may be much nearer than we expect."  
—Dr. Ron Miller, President, New Visions Foundation

"This book encourages us that real love is about caring for all people, not just those who look and sound like us."
—Rev. John H. Vaughn, Director, Twenty-First Century Foundation

"Stout has suffered the fates, encountered troubles, and defeated them. In short, her life has been devoted to a world of grace, peace, and beauty."
—Studs Terkel, author and radio broadcaster

"This inspiring and practical guide to community organizing should be read by everyone involved in the struggle for justice, democracy, and equal rights. Linda Stout knows how to bring people together to be agents of change. Read this book and find out how you can do this too."
—John Shattuck, President and Rector, Central European University, and former U.S. Assistant Secretary of State for Democracy, Human Rights, and Labor

"Linda Stout's book represents decades of profound experience activating ordinary people to do extraordinary things! She inspires people to take action toward the kinds of future they truly want, to experiment with expanding their sense of empowerment, build a cohort group for support, and get on with changing their world. Stout knows we proceed from 'the dream' outward into activism. She is a true master of inspire, inform, and activate. Collective Visioning is where it all begins."
—Christina Baldwin, coauthor of The Circle Way and author of Storycatcher

"The peace movement is too intellectual. There needs to be a book that speaks to regular people. Linda has taken the research we did and made it real and accessible."
—Elise Boulding, cofounder, International Peace Research Association, and author of Cultures of Peace

"Linda's book is urgently needed now. Many congregations are starting to engage in appreciative inquiry and visioning processes to identify hopes and dreams but lack the tools that can translate these into concrete action."
—Susan Leslie, Director, Office for Congregational Advocacy and Witness, Unitarian Universalist Association of Congregations

"Now more than ever our world needs to make use of Linda's heartfelt and innovative approaches to engage people of all backgrounds—including those whose voices are not often heard—in creating futures that work for all. Buy this accessible, straightforward guide today and make a difference tomorrow."
—Amanda Trosten-Bloom, Managing Director, Corporation for Positive Change, and coauthor of The Power of Appreciative Inquiry

"Linda's soul is well endowed with a generous, optimistic, and creative sense of the capacity for enlightenment and change for each fellow mortal, no matter what social class or ethnicity each represents. She offers opportunities for our democratic process to work, indeed, flourish, giving us hope in a climate so laden with negativity. Her book is most timely when we hunger for new approaches to solving so many problems eroding our communities."
—Loring Conant, Jr., MD, Assistant Professor of Medicine, Harvard Medical School