Towards Collective Liberation: Anti-Racist Organizing, Feminist Praxis, and Movement Building Strategy (Paperback)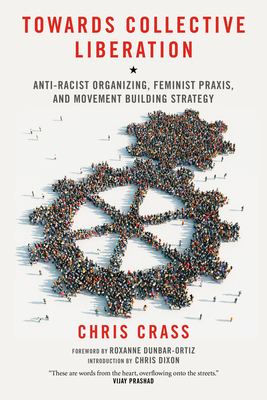 $20.00
Usually Ships in 1-5 Days
Description
---
Organized into four sections, this collection of essays is geared toward activists engaging with the dynamic questions of how to create and support effective movements for visionary systemic change. These essays and interviews present powerful lessons for transformative organizing. It offers a firsthand look at the challenges and the opportunities of antiracist work in white communities, feminist work with men, and bringing women of color feminism into the heart of social movements. Drawing on two decades of personal activist experience and case studies within these areas, Crass's essays insightfully explore ways of transforming divisions of race, class, and gender into catalysts for powerful vision, strategy, and building movements in the United States today. This collection will inspire and empower anyone who is interested in implementing change through organizing.
About the Author
---
Chris Crass is a longtime organizer working to build powerful working class-based, feminist, multiracial movements for collective liberation. He has been an organizer with Food Not Bombs, an economic justice anti-poverty group, and with the Catalyst Project, which combines political education and organizing to develop and support anti-racist politics, leadership, and organization. He has written and spoken widely about anti-racist organizing, lessons from women of color feminism, strategies to build visionary movements, and leadership for liberation. He lives in Knoxville, Tennessee. Roxanne Dunbar-Ortiz has been involved in movements against the Vietnam War and imperialism, and union organizing, and was one of the founders of the Women's Liberation Movement in the late 1960s. She has worked with Indigenous communities for sovereignty and land rights and is also a historian, writer, and professor emeritus in Native American Studies at California State University. She is author of books and articles, including Blood on the Border, Outlaw Woman, and Roots of Resistance. She lives in Oakland, California. Chris Dixon is a longtime anarchist organizer, writer, and educator with a PhD from the University of California–Santa Cruz. His writing has appeared in periodicals such as Clamor, Left Turn, Punk Planet, and Social Movement Studies, as well as in book collections such as The Battle of the Story for the Battle of Seattle, Global Uprising, Letters from Young Activists, Toward a New Socialism, and Men Speak Out. He serves on the board of the Institute for Anarchist Studies and the advisory board for the activist journal Upping the Anti. He lives in Sudbury, Ontario.
Praise For…
---
This collection of Crass' essays and interviews with other highly skilled organizers provides deep insights, showing how anti-racist, feminist practice helps our movements win by transforming the systems that divide us and undermine our collective success." —Jason Hurd,
TruthOut
A conversation with white, middle class, male activist, Chris Crass, author of
Towards Collective Liberation
, who, inspired by the works of bell hooks, describes the importance for everyone, but in this conversation, white men in particular, to be invested in antiracist, feminist and anti-capitalist work. —Radio interview, "Words to Live By," 103.3 Ashville FM, 
https://www.ashevillefm.org/post/words-to-live-by-towards-collective-liberation-sunday-1-2pm/
"Activists operating in a similar milieu as Crass will benefit from his hard-learned lessons, while those first encountering the modern anarchist tradition will find a forthright portrait of its aspirations and frailties from the mind of an engaged and persistently optimistic movement veteran." —
Publishers Weekly
"A deeply important, engaged, and learned defense of anarchism, class politics, and anti-racism . . . Towards Collective Liberation is a significant contribution to the recent history of the U.S. left."  —David Roediger, author, Wages of Whiteness


"In his activism and writing, Chris Crass has been able to articulate and practice a transformative model for social change . . . Chris has done groundbreaking work to realize the revolutionary potential of grassroots multiracial alliances."  —Harsha Walia, cofounder, No One Is Illegal and Radical Desis

"Chris Crass offers penetrating analysis and a keen understanding of the political and cultural dynamics shaping the U.S. We can all learn from reading this."  —Rev. David Billings, The People's Institute for Survival and Beyond


"Towards Collective Liberation may be the "Rules for Radicals" for a growing trend of anarcho-practicos who up until this point have had little literature to make their case with." —www.LeftEyeOnBooks.com
"
Towards Collective Liberation
is a powerful and honest work that underscores the importance of confronting racism and sexism and nurturing the leadership skills of new organizers to reach their full potential as a force that can radically transform society."  —Yutaka Dirks,
Briar Patch
"This brilliant collection of essays is the real organizing deal because with each essay the message is clear: working for justice is deeply intersectional, vulnerable, and messy work."  —Lisa Weiner-Mahfuz, The Feminist Wire
"Towards Collective Liberation is a memoir, toolkit, self-help book, strategy reflection, and call to arms all at once." —Joshua Kahn Russell, Yes!
"With Towards Collective Liberation, veteran activist and writer Chris Crass has filled a number of conspicuous voids in radical literature, seeking to render the aspirations of feminist and antiracist struggle plain, practicable, and their realization imminently possible." —Joshua Stephens, WIN