At Her Feet (Paperback)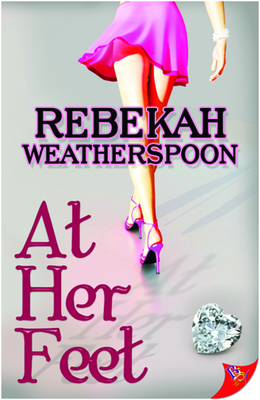 List Price: $16.95
Our Price: $15.26
(Save: $1.70 10%)
Description
---
During a night of Web surfing for celeb gossip and masturbatory material, digital marketing producer Suzanne Kim stumbles across an intriguing thread while checking her profile on kinklife.com. Suzanne isn't exactly looking, but the request for a very specific type of submissive from the attractive mistress, Mami-P, is hard to resist. Though the two hit it off during their first online conversation, Suzanne never imagines how strong their real life attraction and compatibility will be. After a few missteps in training, trust, and communication, Suzanne finds a deep love with her mistress, Pilar.
Overworked and overstressed in her daily life, Suzanne comes to crave their relationship for the visceral escape it provides, but before they can make the ultimate commitment, someone from Suzanne's professional life threatens to disrupt their perfectly balanced bliss.

About the Author
---
After years of meddling in her friends' love lives, Rebekah turned to writing romance as a means to surviving a stressful professional life. She has worked in various positions from library assistant, meter maid, middle school teacher, B movie production assistant, reality show crew chauffeur, D movie producer, and her most fulfilling job to date, lube and harness specialist at an erotic boutique in West Hollywood. Her interests include Wonder Woman collectibles, cookies, James Taylor, quality hip-hop, football, American muscle cars, large breed dogs, and the ocean. When she's not working, writing, reading, or sleeping, she is watching Ken Burns documentaries and cartoons or taking dance classes. If given the chance, she will cheat at UNO. She was raised in Southern New Hampshire and now lives in Southern California with an individual who is much more tech savvy than she ever will be.