No Time to Lose: A Timely Guide to the Way of the Bodhisattva (Paperback)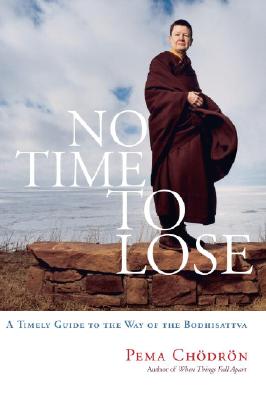 List Price: $22.95
Our Price: $20.66
(Save: $2.30 10%)
Description
---
Over the years, Pema Chödrön's books have offered readers an exciting new way of living: developing fearlessness, generosity, and compassion in all aspects of their lives. In No Time to Lose Pema invites readers to venture further along the path of the "bodhisattva warrior," explaining in depth how we can awaken the softness of our hearts and develop true confidence amid the challenges of daily living.

Pema reveals the traditional Buddhist teachings that guide her own life: those of The Way of the Bodhisattva (Bodhicharyavatara), a text written by the eighth-century sage Shantideva. This treasured Buddhist work is remarkably relevant for our times, describing the steps we can take to cultivate courage, caring, and joy—the keys to healing ourselves and our troubled world. Pema offers us a highly practical and engaging commentary on this essential text, explaining how its profound teachings can be applied to our daily lives.
About the Author
---
Pema Chödrön is an American Buddhist nun in the lineage of Chögyam Trungpa. She is resident teacher at Gampo Abbey in Nova Scotia, the first Tibetan monastery in North America established for Westerners. She is the author of many books and audiobooks, including the best-selling When Things Fall Apart and Don't Bite the Hook.
Praise For…
---
"Chödrön's commentary on Shantideva's text is wise yet humble, and always encouraging."—Yoga Journal

"No Time to Lose represents the fruition of Chödrön's years of practice and study: a traditional commentary in which passages from The Way of the Bodhisattva are interspersed with her ever-approachable and pithy instructions for daily life."—Parabola

"Chödrön provides consistently clear expositions of Shantideva's sometimes convoluted verses and lines of argument, keeping her eye firmly on the question of how his discussion is relevant to the lives of ordinary people living in modern societies.  A superlative presentation of the text."—Buddhadharma

"In this ambitious and profound work, Chödrön hits high stride, creating a wide-ranging, accessible, and soul-stirring commentary on the classic Buddhist text The Way of the Bodhisattva."—Spirituality and Health

"Chödrön is a clear teacher, explaining key terms and making things simple and characteristically plainspoken.  She is also the right kind of motivator, telling readers immediately what's in it for them: this book can inspire those who want to make the world a better place."—Publishers Weekly

"Pema Chödrön's writings have been helpful to countless numbers of people trying to find some ground for their being in this chaotic world."—Bill Moyers