Raising Boys Without Men: How Maverick Moms Are Creating the Next Generation of Exceptional Men (Hardcover)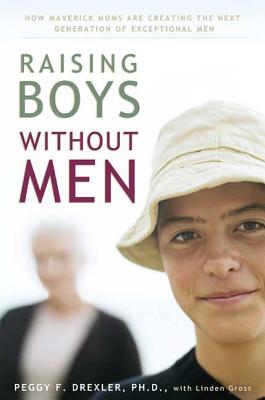 Description
---
Raising thriving, emotionally healthy sons does not require a man around the house! That's the conclusion of a groundbreaking research study that will open eyes, stir debate, and reassure nearly 10 million single mothers.

As the number of single-mom and two-mom households has grown, so have concerns about the possible damage to boys caused by the lack of a male role model in the house. Peggy F. Drexler, Ph.D., listened to all the dire warnings; but her training as a research psychologist told her she had to see the evidence. So she embarked on a long-term study comparing boys raised in female-headed families with those whose fathers were present throughout their childhood. What Dr. Drexler discovered is as heartening as it is startling:
o Female-headed households may be even better parents for boys than households with men
o Sons from these families are growing up emotionally stronger, more empathetic, and more well-rounded than boys from "traditional" mother-father families
o While more in touch with their feelings, these boys remain boyish and masculine in all the ways defined by our culture
Raising Boys Without Men offers an inclusive vision of what family can mean and a blueprint for raising happier, healthier sons.
About the Author
---
Peggy is a research psychologist who has worked with children and their families over many years. A former Gender Scholar at Stanford University and a former member of the Board of Directors of the NYU Cchild Study Center, she is now an Assistant Professor of Psychology in Psychiatry at the Weill Medical College of Cornell University.

LINDEN GROSS, former special features editor of the Los Angeles Times, is an accomplished ghostwriter with several notable books to her credit, including Julia "Butterfly" Hill's The Legacy of Luna. She lives in Northern California.
Praise For…
---
"Truly a cutting-edge book . . . important for everyone who cares about the future of the American family." —Carol Gilligan, author of The Birth of Pleasure

"This important work will serve as a beacon to the country's nearly 10 million single mothers." —Publishers Weekly

"As I read this book, I could almost hear the sound of the flying monkeys swooping in from out on the right. Books like this are attacked for the truths they tell. And there is no greater truth you can tell to the nation's single mothers than 'Relax. If you love him, support him, listen to him--your boy will turn out just fine.'" —Bette Midler

"This is a wonderful book--a very necessary book. We live in an age of labels: you're normal, you're not. For the so-called non-traditional families that want only to make their way in the world, labels can do incredible damage. Boys Without Men makes a convincing and empathetic case that very good things come from outside the bounds of our worn-out assumptions." —Henry Louis Gates W.E.B. Du Bois Professor of the Humanities at Harvard University

"This is the answer to those who believe they can attach limits to the idea of family. It's part guide, part affirmation, part eye-opening proof that family is far less about composition, than it is about the power of its love and support." —Jann Wenner, editor and publisher, Rolling Stone Magazine

"Peggy Drexler is such a perfect guide to parenting in the 21st century, of what makes the most basic institution of society click, I wondered: How did she get so smart about life? Decades of research, of course, but also an uncanny knack for seeing inside the human heart. Pull up a chair and read this book. You'll be a better parent for it." —Margaret Carlson, first woman columnist, Time Magazine, political columnist, Bloomberg News, and Washington editor of The Week magazine.

"This highly readable, well researched, groundbreaking, myth shattering book should lay to rest all unfounded ideological opposition to nontraditional families. Everyone who wants to see the best interest of children served must read and act on this book's wisdom and research. " —Alan Dershowitz, Author and Felix Frankfurter Professor of Law at Harvard University

"Once a decade, it seems, there is a book that suddenly makes it all clear that what we have been led to believe about ourselves, gender roles and expectations is nothing more than hooey. This is such a book. A well-researched and clearly written testament that people are people and families are not nuclear but functional." —Rita Henley Jensen, founder and editor in chief, Women's eNews

"I've always been in the idea business. So it's exciting when I see something blow away convention. This book creates controversy. And that's good. Controversy means people are thinking instead of assuming." —Donny Deutsch, Chairman and CEO of Deutsch, Inc, Host of CNBC's hit show "The Big Idea with Donny Deutsch", author of "Often Wrong, Never In Doubt"

"Raising Boys without Men changes the terms of our fractious national conversation about how we can raise boys to become good men. Peggy Drexler's thoughtful, engaging book demonstrates that fine parenting comes in various shapes, sizes, and genders." —Judith Stacey, Professor and Director of Undergraduate Studies, Department of Social and Cultural Analysis, Professor of Sociology, New York University