The Nearest Exit May Be Behind You (Paperback)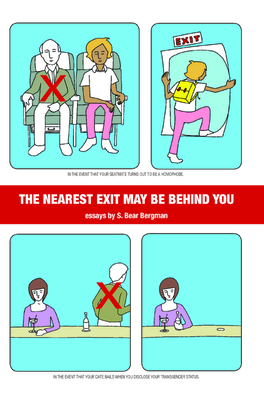 List Price: $18.95
Our Price: $17.06
(Save: $1.90 10%)
Description
---
Lambda Literary Award finalist
Alternately unsettling and affirming, devastating and delicious, The Nearest Exit May Be Behind You is a new collection of essays on gender and identity by S. Bear Bergman that is irrevocably honest and endlessly illuminating. With humor and grace, these essays deal with issues from women's spaces to the old boys' network, from gay male bathhouses to lesbian potlucks, from being a child to preparing to have one. Throughout, S. Bear Bergman shows us there are things you learn when you're visibly different from those around you--whether it's being transgressively gendered or readably queer. As a transmasculine person, Bergman keeps readers breathless and rapt in the freakshow tent long after the midway has gone dark, when the good hooch gets passed around and the best stories get told. Ze offers unique perspectives on issues that challenge, complicate, and confound the "official stories" about how gender and sexuality work.
S. Bear Bergman's first book was Butch is a Noun (Suspect Thoughts Press). Ze is an activist, gender-jammer, and author of two books and three award-winning solo stage shows. Bergman recently relocated to Burlington, Ontario, from New England.
About the Author
---
S. Bear Bergman is an activist, gender-jammer, performer, author of Butch Is A Noun (Suspect Thoughts), and creator of three solo theater shows (all of which won awards from the National LGBT Theatre Festival). Formerly of Massachusetts, ze recently relocated to Burlington, Ontario, Canada. Hir website is sbearbergman.com.
Praise For…
---
"Bear's poetry of butchness lets us see into facets of gender that usually aren't so transparent." Carol Queen

"Following Kate Bornstein, Bergman explains how butches live outside of the inane gender binary, and how society responds to gender rebellion." Chill Magazine