Carlisle Indian Industrial School: Indigenous Histories, Memories, and Reclamations (Indigenous Education) (Paperback)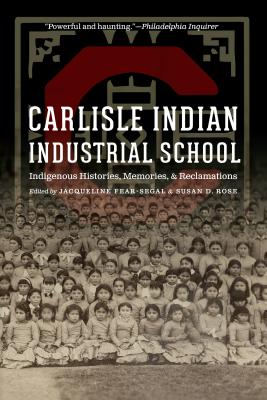 $33.00
Usually Ships in 1-5 Days
Description
---
The Carlisle Indian School (1879–1918) was an audacious educational experiment. Capt. Richard Henry Pratt, the school's founder and first superintendent, persuaded the federal government that training Native children to accept the white man's ways and values would be more efficient than fighting deadly battles. The result was that the last Indian war would be waged against Native children in the classroom.

More than 10,500 children from virtually every Native nation in the United States were taken from their homes and transported to Pennsylvania. Carlisle provided a blueprint for the federal Indian school system that was established across the United States and served as a model for many residential schools in Canada. The Carlisle experiment initiated patterns of dislocation and rupture far deeper and more profound and enduring than its initiators ever grasped.

Carlisle Indian Industrial School offers varied perspectives on the school by interweaving the voices of students' descendants, poets, and activists with cutting-edge research by Native and non-Native scholars. These contributions reveal the continuing impact and vitality of historical and collective memory, as well as the complex and enduring legacies of a school that still touches the lives of many Native Americans.

 
About the Author
---
Jacqueline Fear-Segal is a professor of American history and culture at the University of East Anglia, UK. She is the author of White Man's Club: Schools, Race, and the Struggle of Indian Acculturation (Nebraska, 2007) and editor of Indigenous Bodies: Reviewing, Relocating, Reclaiming. Susan D. Rose is the Charles A. Dana Professor of Sociology at Dickinson College. She is the author of Keeping Them Out of the Hands of Satan: Evangelical Schooling in America and Challenging Global Gender Violence.
Praise For…
---
"By bringing together such a diverse range of voices—academics and non-academics, Native and non-Natives—to speak about the history and legacy of what remains the most well-known Indian boarding school, this book does us all a great service. The contributors share their important stories with exceptional grace, insight, and power."—Stephen Amerman, professor of history at Southern Connecticut State University and author of Urban Indians in Phoenix Schools, 1940–2000
— Stephen Amerman