Natural Choices for Women's Health: How the Secrets of Natural and Chinese Medicine Can Create a Lifetime of Wellness (Paperback)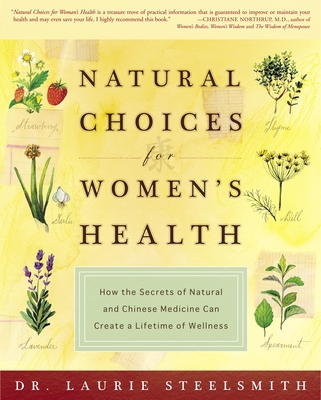 $17.99
Usually Ships in 1-5 Days
Description
---
Are you unhappy relying on antibiotics for every illness, painkillers for menstrual cramps, and caffeine just to feel "normal"? Are you fed up with an endless cycle of colds, flus, headaches, digestive problems, and fatigue? Do you want to experience freedom from menopausal hormone fluctuations and hot flashes? Natural Choices for Women's Health explores these issues and many more, offering a groundbreaking resource for women who want to approach health naturally.

In this completely accessible guide, Dr. Laurie Steelsmith shows for the first time how women can create a lifetime of optimal well-being by blending the extraordinary benefits of natural medicine from both the Western tradition and ancient Chinese teachings. Outlining a Naturally Healthy Lifestyle that enhances the body's own health-sustaining abilities, Steelsmith identifies ten crucial components of a woman's health—the immune system, kidneys, liver, digestive system, heart, hormones, bones, breasts, pelvis, and mental health—and provides dozens of tips to help maintain peak condition. In this resource you will discover:

•How to balance your hormones with natural medicine

•A list of "Best Breast Foods" and other tips to enhance your breast health

•Ancient methods for increasing your libido with Chinese herbal medicine

•How exercise can promote the balance of yin and yang in your body

•Secrets of the Chinese Five Element system and how your personality type influences every aspect of your health

Innovative, authoritative, and truly comprehensive, Natural Choices for Women's Health is sure to become the standard reference for women who want to attain wellness naturally.
About the Author
---
Dr. Laurie Steelsmith is a licensed naturopathic doctor, acupuncturist, and practitioner of Chinese medicine and was trained at Bastyr University in Seattle, the nation's leading center for natural medicine. She has practiced in Honolulu since 1993, where she writes the "Prescriptions" column for the Honolulu Advertiser. She is a frequent lecturer on the subject of women's health.
Praise For…
---
"Natural Choices for Woman's Health is a treasure trove of practical information that is guaranteed to improve or maintain your health and may even save your life. I highly recommend this book." —Christiane Northrup, M.D., author of Women's Bodies, Women's Wisdom and The Wisdom of Menopause

"I wish this wonderful book had been available when I was on my search for better health and vitality three decades ago. Dr. Steelsmith's inspirational personal story is a powerful foundation for her wise guidance. Her astute blending of the philosophies and therapies of Eastern and Western natural medicine provides remarkable insight not available anywhere else." —Dr. Joseph Pizzorno, N.D., President Emeritus, Bastyr University, and coauthor of Encyclopedia of Natural Medicine and How to Prevent and Treat Cancer with Natural Medicine

"Natural Choices for Women's Health offers an enlightening and clear direction for the navigation toward health by women of all ages. It offers a very practical and rational approach to the many health challenges women face." —Dr. Michael T. Murray, N.D., coauthor of Encyclopedia of Natural Medicine and How to Prevent and Treat Cancer with Natural Medicine