Feminism in Our Time: The Essential Writings, World War II to the Present (Paperback)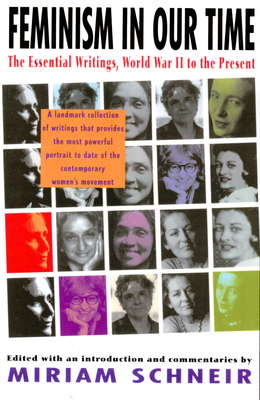 $17.95
Usually Ships in 1-5 Days
Description
---
A landmark collection of writings that define the intellectual and political underpinnings of contemporary feminism, from Simone de Beauvoir to Ruth Bader Ginsburg.

In this important volume, the respected feminist historian Miriam Schneir completes the work she began in her bestselling Feminism: The Essential Historical Writings, presenting contemporary writings that define the women's movement today—and revealing how radically transformative a force it is throughout the world.

Here are the words of Doris Lessing, Betty Friedan, Germaine Greer, Anita Hill, and many other important feminist figures. Ranging from intensely personal statements to ringing manifestos, from diagnosis to outright rebellion, and incorporating both public records and works addressing such specific issues as religion, rape, women's health, pornography, and the concerns of lesbians and women of color, Feminism in Our Time is a thorough record of women's ongoing struggle to control their own destinies and provide alternative visions of a just society and true human equality.
About the Author
---
Miriam Schneir is the editor of the anthology Feminism in Our Time: The Essential Writings, World War II to the Present and Feminism: The Essential Historical Writings. She coauthored "Remembering the Ladies": Women in America, 1750-1815, and wrote with Walter Schneir Invitation to an Inquest, a study of the Rosenberg case. Her articles have appeared in Ms., The Nation, The New York Times Magazine, and various other publications. Under the auspices of Columbia Teachers College, she prepared a critique of the coverage and treatment of women in a multivolume encyclopedia, which was the basis for revision of the encyclopedia. She was a research associate with Columbia University Center for the Social Sciences Program in Sex Roles and Social Change.