Gay and Lesbian Weddings: Planning the Perfect Same-Sex Ceremony (Paperback)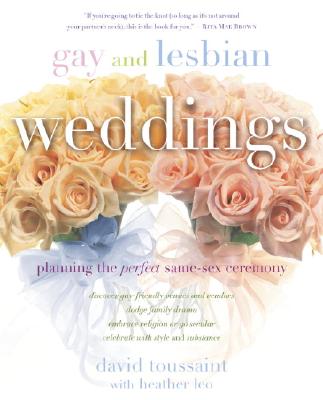 $18.00
Usually Ships in 1-5 Days
Description
---
Comprehensive, fresh, and funny, Gay and Lesbian Weddings covers everything you need to know to plan the wedding of your dreams. Unlike other wedding planners, this one tackles the issues your heterosexual friends never had to consider. For instance, do you come out to Aunt Gloria before she receives the invitation and the shock of her life? Which father of the bride pays for a lesbian wedding? Who walks down the aisle first? Is it possible for members of the wedding party to be happy with what you force them to wear? (Okay, this is a universal problem.) Step-by-step and down-to-earth, Gay and Lesbian Weddings includes invaluable advice on

• the changing laws regarding gay marriage in the United States and abroad; the differences among domestic partnerships, civil unions, and marriage
• budget concerns: choosing your ideal wedding size and style
• finding gay-friendly printers, photographers, gift registries, caterers, florists (actually, if you find a gay-hostile florist, we'd love to hear about it)
• ethnic, theme, and destination weddings
• keeping the honey in the honeymoon
• sex—including how to keep the heat after the wedding night, as well as the facts on fidelity (can the two be linked?)

Plus: a handy Wedding Countdown Calendar, website resources, and true stories from same-sex couples who've gotten hitched without a hitch

Gay and Lesbian Weddings gives you straight talk (so to speak) with equal parts information, flair, and fabulousness!
About the Author
---
David Toussaint is the author of Gay and Lesbian Weddings: Planning the Perfect Same-Sex Ceremony. A freelance writer, playwright, actor, and director, he received his first professional writing job at the age of 15, as an assistant to the real estate editor for the Contra Costa Times newspaper in Northern California. His fiction has appeared in the literary journals Literary Potpourri and Snow Monkey, as well as the cyberzines Outsider Ink and The Prose Menagerie. Years ago, his self-produced one-act play, Backstage Bitches, ran for two consecutive summers in New York City. He has served three times as a guest editor for Francis Ford Coppola's online literary magazine, Zoetrope: All-Story Extra.
Praise For…
---
"If you're going to tie the knot (so long as it's not around your partner's neck), this is the book for you."
—RITA MAE BROWN

"I'm recommending Gay and Lesbian Weddings to all of my friends . . . especially the straight ones!"
—DINAH MANOFF

"Thank goodness I don't have to consult Amy Vanderbilt anymore!"
—PHRANC

"While gay people's struggle to win the right to marry continues, weddings are already happening -- and gay couples, their families, and friends planning their celebration will benefit from the advice and stories in this fun-to-read guide." -Evan Wolfson, Executive Director, Freedom to Marry