Don't Get Me Started (Paperback)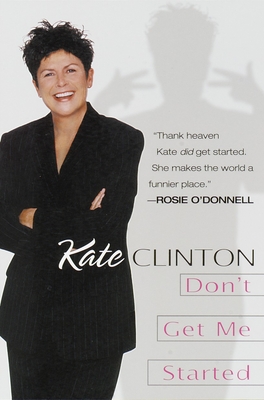 $15.00
Usually Ships in 1-5 Days
Description
---
Let's get one thing straight. I'm not. I'm out and proud. When I'm out and it's raining I carry an umbrella. I used to be in but I hate the smell of mothballs. My closet was huge, complete with a foyer, turnstile, a few dead bolts, and a burglar alarm that had to be deactivated before I could even touch the door handle. And then there was the storm door. It wasn't until I had lived and slept with a woman for a year that it occurred to me to ask, "Do you think we're lesbians?" By the way, never come out to your father in a moving vehicle.

Now I've written a book. It's not as easy as it looks. One night, I was working late on my computer when a little message came up on the screen, "You are almost out of memory." Here are my thoughts and observations on everything from gay marriage (Mad Vow Disease) to my morbid fear of mascots (with the exception of the San Diego Chicken). That's all I'm going to say because I don't want to spoil it for you. That's a job for Jesse Helms.
About the Author
---
A self-described fumerist (feminist/humorist), Kate Clinton taught English for eight years before a writing workshop and improvisational class convinced her that her political views deserved a public hearing. She quit teaching, took a job as a window washer, and started her professional stand-up career in 1981, using politics, Catholicism, and her lesbianism as basic themes. She performs one-woman shows across the country and writes columns for the Progressive and the Advocate. She has appeared on Arsenio Hall, Good Morning America, Nightline, CNN, C-Span, and many other places. Although she has four comedy albums to her credit, Don't Get Me Started is her first book.


From the Hardcover edition.
Praise For…
---
"Girls with mascara--watch out! Kate will have it running down your cheeks in no time flat. Thank heaven Kate did get started. She makes the world a funnier place."
--ROSIE O'DONNELL

"Kate Clinton is a hero to women, to feminists, to lesbians, and to anyone who loves a good laugh. Don't Get Me Started is laugh-out-loud funny. Do yourself a favor. Buy this book--and get ready to laugh."
--Bay Area Reporter

"SASSY . . . WICKED . . . HILARIOUS . . . BOTH HUGELY ENTERTAINING AND PROUDLY LIBERATING."
--Q San Francisco

"Kate Clinton manages the neat trick of being deliciously sane. Her book is a joy, filled with tasty, politically dangerous thoughts; Kate is the person you want to sit next to in the back row."
--PAUL RUDNICK