Dress Codes: Of Three Girlhoods--My Mother's, My Father's, and Mine (Hardcover)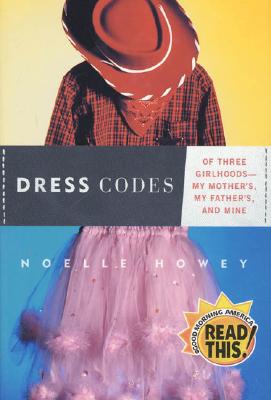 Description
---
""There's no news like hearing irrefutable proof that you're not the sole cause of your parents'' woes, your father's drinking, your unshakable feeling that you're not put together quite right and finding out the problem all along was your father's unrequited yearning for angora."" --Noelle Howey from" Dress Codes"
Throughout her childhood in suburban Ohio, Noelle struggled to gain love and affection from her distant father. In compensating for her father's brusqueness, Noelle idolized her nurturing tomboy mother and her conservative grandma who tried to turn her into "a little lady." At age 14, Noelle's mom told her the family secret straight out: "Dad likes to wear women's clothes."
As Noelle copes with a turbulent adolescence, further confused by the male and female role models she had as a girl, her father begins to metamorphose into the loving parent she had always longed for--only now outfitted in pedal pushers and pink lipstick. Could becoming a woman make her father a completely different person? With edgy humor, courage, and remarkable sensitivity, Noelle Howey challenges all of our beliefs in what constitutes gender and a "normal" family.

About the Author
---
Noelle Howey is the co-editor of "Out of the Ordinary: Essays on Growing Up with Gay, Lesbian and Transgender Parents, " winner of two 2000 Lambda Literary Awards. She has also written for "Ms., Jane, Mother Jones, Teen People, Bitch, Mademoiselle, " and "Self." A finalist for a GLAAD Media Award, she received a 2001 Nonfiction Fellowship from the New York Foundation for the Arts. An Ohio native, Noelle Howey lives in Minneapolis with her husband.
Praise For…
---
"Truth, as it turns out, really is stranger than fiction.Funnier, too. And sadder. Messier, as well—and just generally richer and more interesting. At least, such is the case in Noelle Howey's wise and entertaining memoir Dress Codes. This book may not be what everyone has in mind when they extol 'family values,' but rarely has the true value of family been so movingly and lovingly evoked." —John Colapinto, author of As Nature Made Him:The Boy Who Was Raised as a Girl

"With disarming honesty and startling lucidity Noelle Howey beautifully weaves together the stories of three people coming into themselves. Like life, Howey's frank, probing book is sexy and difficult, and painful and joyous." —This be Nissen, author of The Good People of New York

"Tremendously gratifying, Dress Codes is both funny and entertaining, and purveys a vital social message: that there is not much more important than being at home in your body and mind." —Amy Wilensky, author of Passing for Normal:A Memoir of Compulsion