What Are You Hungry For?: Women, Food, and Spirituality (Paperback)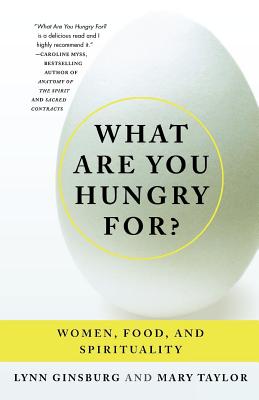 List Price: $19.99
Our Price: $17.99
(Save: $2.00 10%)
Usually Ships in 1-5 Days
Description
---
Women have many secrets. But a woman's secret relationship with food and her body can overshadow other aspects of her life, filling her with obsession, shame and fear. Many women waste countless years focusing on food and appearance, rather than spending energy on what holds deepest meaning for them in life.
In What Are You Hungry For? authors Taylor and Ginsburg show how obsessive dieting, a distorted body image and eating disorders are often symptoms of a deep spiritual void. They offer a revolutionary--and easy to follow--approach to resolving deep-seated food and body issues using methods adapted from Eastern mind/body practices such as yoga.
What Are You Hungry For? is a discovery book in the tradition of Susie Orbach's Fat is a Feminist Issue and Geneen Roth's When Food is Love. It will change the way you think about your body and the way you approach preparing and eating every single meal.
"Finally, an insightful book that ties together food and our spiritual practice What Are You Hungry For? provides both philosophical and practical ways to understand our relationship with what we take into our bodies and to how we are following our internal voices." --Rodney Yee, yoga teacher and star of the bestselling video series "Yoga Journal's Yoga with Rodney Yee"
About the Author
---
Lynn Ginsburg is a freelance writer with a longtime interest in nutrition and health. She has contributed to a number of publications, including The Los Angeles Times and Walking.

Mary Taylor is a classically trained chef who studied at L'Ecole Des Trois Gourmandes and Le Cordon Bleu in Paris. She is the author of three cookbooks, including New Vegetarian Classics, and has practiced yoga and meditation for 25 years.
Praise For…
---
"What Are You Hungry For? is a delicious read and I highly recommend it." —Caroline Myss, bestselling author of Anatomy of the Spirit and Sacred Contracts
"Finally, an insightful book that ties together food and our spiritual practice! What Are You Hungry For? provides both philosophical and practical ways to understand our relationship with what we take into our bodies and how we are following our internal voices." —Rodney Yee, author of Yoga: The Poetry of the Body
"Eating is not just a biological process. It involves all of us, including our emotions and our spirit. What Are You Hungry For? supports and enables women to bring a quality of mindfulness to their relationship to food. This is a book that can help readers become liberated to more authenticity and consciousness around eating." —John Robbins, author of Diet for a New America
"This book offers a good balance of the theoretical and the practical, encouraging attention and mindfulness with gentle, easy exercises. For all those who regularly fight with their food and their body, Lynn and Mary's loving approach offers a sane way out of the conflict." —Annemarie Colbin, author of Food and Healing