I Never Called It Rape - Updated Edition: The Ms. Report on Recognizing, Fighting, and Surviving Date and Acquaintance Rape (Paperback)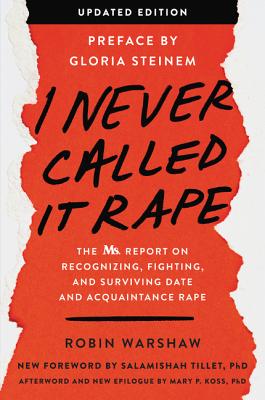 List Price: $16.99
Our Price: $15.29
(Save: $1.70 10%)
Coming Soon - Available for Pre-Order Now
Description
---
A new edition of the 1988 classic text that exposed the extreme prevalence of rape in America, coining the term acquaintance rape and establishing the disturbing statistics on sexual assault that still hold just as true today—now featuring an original preface from Gloria Steinem, a new introduction by Salamishah Tillet, an updated afterword by Mary P. Koss, PH.D., as well as an updated resources section.
"Essential. . . . It is nonpolemical, lucid, and speaks eloquently not only to the victims of acquaintance rape but to all those caught in its net."— Philadelphia Inquirer

In 1988, Robin Warshaw wrote I Never Called It Rape, the ground-breaking book that revealed a staggering truth: 25% of women were the victims of rape or attempted rape. Over 80% of these women knew their assailants. 
Warhsaw based her reportage on the first large-scale study into rape ever, conducted by Ms. Magazine in the late 80s. Thirty years later, we now have a wealth of statistics on rape. The disturbing truth is that the figures have not diminished. That our culture enables rape is not just shown by the numbers—the outbreak of allegations against serial rapists from Bill Cosby to Harvey Weinstein and the 2016 presidential election of Donald Trump, a man who was recorded bragging about sexual assault, have further amplified this horrifying truth.
With over 80,000 copies sold to date, I Never Called It Rape has served as a guide to understanding rape as a cultural phenomenon for tens of thousands—providing women and men with strategies to address our rape endemic; survivors with the context and resources to help them heal from their experiences; and pulling the wool from all our eyes on the pervasiveness of rape and sexual assault today. 
As relevant today as when it was first published, this new edition features Warshaw's original report and her 1994 Introduction, as well as an original Preface from Gloria Steinem, a new Introduction by Salamishah Tillet on how the cultural landscape has evolved since the 1980s, an updated Afterword by Mary P. Koss, PH.D., examining the ways she would approach the research she did for Ms. differently today, as well as an updated resources section.
About the Author
---
Robin Warshaw writes on social issues, medicine and health. In writing I Never Called It Rape, she used pseudonyms for the many women who shared their stories but wrote openly about her own acquaintance rape for the first time. She has never regretted that decision and is grateful to the women (and some men) who have reached out over the years to tell her how the book helped them. Warshaw is a contributing writer for Living Beyond Breast Cancer and writes for other nonprofits and publications. She is a member of the Authors Guild, American Society of Journalists and Authors, and the Association of Health Care Journalists. Her work has received several national awards.
Salamishah Tillet is a rape survivor, activist, and feminist writer. She is the cofounder of A Long Walk Home, a nonprofit that uses art to empower young people to end violence against girls and women, and the writer of the award-winning Story of a Rape Survivor, a performance that chronicles her pathway to healing after being sexually assaulted in college. She is the faculty director of the New Arts Jus- tice Initiative at Express Newark and the Henry Rutgers Professor of African American Studies and Creative Writing at Rutgers University.
Praise For…
---
 "A devastating portrait of men who rape women they know... based on first-person accounts, scholarly studies and data from a nationwide survey of college campuses."
— Publishers Weekly

"A deeply disturbing study of date or acquaintance rape and the myths and cultural attitudes that encourage it.... For women who have suffered acquaintance rape, Warshaw's book should be extraordinarily helpful. But it should be read by many others as well: a painful, provocative, and important work."
— Kirkus

"Essential . . . It is nonpolemical, lucid, and speaks eloquently not only to the victims of acquaintance rape but to all those caught in its net."
— Philadelphia Inquirer