Preschool Age Interactive Books
More than just pop-up books, these books are tactile in multiple ways, allowing your baby or toddler to experience the story using multiple senses.
---

$7.19
ISBN: 9780312499099
Availability: Usually Ships in 1-5 Days
Published: Priddy Books - January 23rd, 2007
The youngest readers will love this interactive book with doors to slide and colorful trucks on every page Introducing different concepts from colors to occupations, this book is full of hidden surprises and questions to encourage learning. For ages 2 and up
---

$16.19
ISBN: 9781582348414
Availability: Hard to Find
Published: Bloomsbury U.S.A. Children's Books - October 7th, 2003
Starting with the simplest images-apples for A, bowls for B, cat for C-Sara Pinto has taken a magical leap in the concept of alphabet books. Each letter has a door, and behind each door the objects arrange and rearrange themselves so that with every letter the picture becomes more complex. Letter by letter, magical scenes unfold inside the room.
---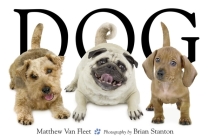 $17.09
ISBN: 9781416941378
Availability: Usually Ships in 1-5 Days
Published: Simon & Schuster/Paula Wiseman Books - January 1st, 2007
From the #1 New York Times bestselling children's book creator Matthew Van Fleet.

Doggone fun for little ones
---